In the interest of full disclosure, as an educator with undergraduate and graduate degrees in literature and teaching literature, book banning enrages me.
But this post isn't about me. It's about why everyone--yes, everyone--should share the outrage.
Ho hum, you say. Book banning isn't new. In pockets around the country, self-appointed defenders of morality have been removing books from library shelves and from school reading lists for as long as I can remember. Cloaked in virtue, book banners assert they are protecting impressionable minds. Damn right. Keep the kids away from Atticus Finch and Harry Potter and Anne Frank and the Joads. Don't forget about the menacing messages in Lord of the Flies and 1984. Oh and yeah, what about that Shel Silverstein? His poetry is really dangerous.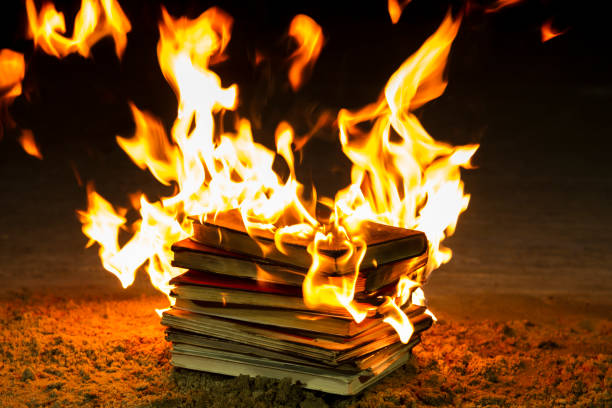 What seems different today, though, is that the book banners aren't easily dismissed as fringe extremists: overzealous evangelists preaching fire and brimstone, undereducated prigs. In 2022, the people warming their souls around book-stoked bonfires are people we know, people we may have talked with, ordinary folks who go to work every day at jobs that have nothing to do with literature and/or learning but who suddenly feel compelled to protect and defend.
The people who tell me they don't think kids should read The Outsiders or Madame Bovary or The Crucible are almost always unable to explain why these stories shouldn't be told. When I was still in the classroom, a parent objected to John Steinbeck's allegory about greed and exploitation, The Pearl. Her argument? Steinbeck was "a kook" and a baby dies in the story. When asked who should make the decisions regarding banned books, proponents suggest clergy, politicians, parents. When further asked about the criteria for banning particular books, most can only cite vague references to language, behavior and theme. Ironically, these are also often the same people who assert their freedom to disregard mask mandates because such public health initiatives infringe on their freedom.
Make no mistake, in the current climate of anti-intellectualism and populism, book banning is gaining favor. It is a loud and proud movement to quiet voices in literature, to subvert critical thought, to maintain a tenuous grip on a lifestyle perceived to be threatened by so-called elites.
In Tennessee last month, the McMinn County School Board unanimously voted to ban from the curriculum Maus, a 36-year-old graphic novel about the Holocaust. The board's decision was based, in part, on a drawing of a dead, nude mouse.
It should arouse your anger. Book banning is an assault on democracy. It is one of the first steps despots take to silence dissenting voices. Convincing constituents that censoring the arts is in the moral, patriotic, religious best interest of the country is manipulation. That manipulation becomes easier when the public is under educated and afraid and book banning is part of that process.
Do I believe that some books are inappropriate for younger kids? Sure. That's plain old common sense, though I do confess that my own two kids were reading the works of John Grisham and Michael Crichton in the intermediate grades when they were probably too young to get the nuances of the books. That said, it doesn't appear to have hurt them. Both remain voracious readers and are successful in their personal and professional lives.
Having spent 25 years in public secondary school classrooms, I would also tell you that kids will get their hands on books they want to read and the more someone tells them they cannot read a text, the harder they will work to get it. Case in point: Maus is now a best seller in Tennessee and beyond.
So, the next time you hear someone talk about banning books in any way, consider it your democratic duty to question them, consider it a defense of the framework of the nation, consider yourself a patriot.